Sustainability

· All of our pieces are made from +73% recyclable Sterling Silver
· We reduce our carbon footprint by working with Spanish suppliers
· Wrapping paper usage has been reduced by incorporating a pouch

WORKING TO IMPROVE OUR PACKAGING
Your jewelry pieces will come with a little pouch for you to use and of course, re-use. You can use the little cloth pouch for anything! You can keep your extra coins or bits and bobs in it when traveling.
EXTRA PACKAGING FOR GIFT
We know jewelry makes the perfect gift, but let's be honest, the presentation does matter when it comes to a special present. That is why we have created a special premium jewelry box that can also be used as a mini jewelry box when traveling. Let's give "wrapping paper" a break.

WHAT'S COMING - PURPOSES 2023
Our commitment to the environment pushes us to improve and find new ways of creating a more ethical brand. That is why we are working to eliminate the plastic from our packaging so it can be 100% plastic free and recyclable.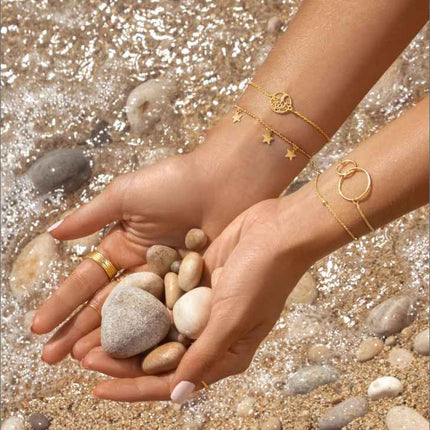 We optimize shipments and reduce our carbon footprint
Cotton pouches allow us to send more jewelery in the same order and therefore shipments are much more eco-friendly, reducing our impact.
A practical idea, ideal for storing your jewelry
The new cotton pouch is designed with you in mind. In addition to being beautiful, it is super practical, whether traveling or to store them at home, you will save space and your jewelery will always be perfect.